Neoway Technology Was Successfully Shortlisted for the IoT Integrated Service Bid of the Sichuan Digital Industry Co., Ltd. Partner Recruitment Project
Recently, Neoway Technology was successfully shortlisted for the IoT integrated service bid of the Sichuan Digital Industry Co., Ltd. partner recruitment project. Neoway Technology conducts all-round collaboration with upstream and downstream partners in IoT operations, IoT platforms, terminals, solutions, and IoT channels according to the needs in different IoT application scenarios. Sichuan Digital Industry Co., Ltd. partner recruitment project involves eight professional fields, such as cloud computing, big data, IoT, IT services, smart city, and software development, and dozens of well-known companies, including Huawei, Tencent Cloud, Baidu, and Lenovo participated in the bidding and were successfully shortlisted. Neoway Technology's entry indicates that in terms of metro IoT solutions, its products are mature, its technology is excellent, and it can continuously, efficiently, and stably provide customers with professional products and services.
Many countries and regions around the world have attached great importance to the development of the digital economy, and have successively issued policies to promote digital industrialization and industrial digitization.
Neoway Technology focuses on the "connectivity" of IoT, and has 15 years of technical accumulation and application experience in the field of IoT wireless communications. Neoway Technology has developed Neoaccess cloud and Neopipe cloud based on insight and understanding of customer needs to comprehensively improve the quality of IoT wireless communications, improve the efficiency of IoT access, device management, and data governance, and help build industry digitization base.
Neoway metro IoT perception platform integrates "construction, management, application, and operation" to meet the requirements of smart city construction. This platform improves managers' data sharing, resource intensive utilization, scientific layout, and precise positioning, avoids duplication of infrastructure construction, lowers the access bar of different devices and different standards, improves data analysis and governance capabilities, and promotes new forms and modes of data co-construction and sharing.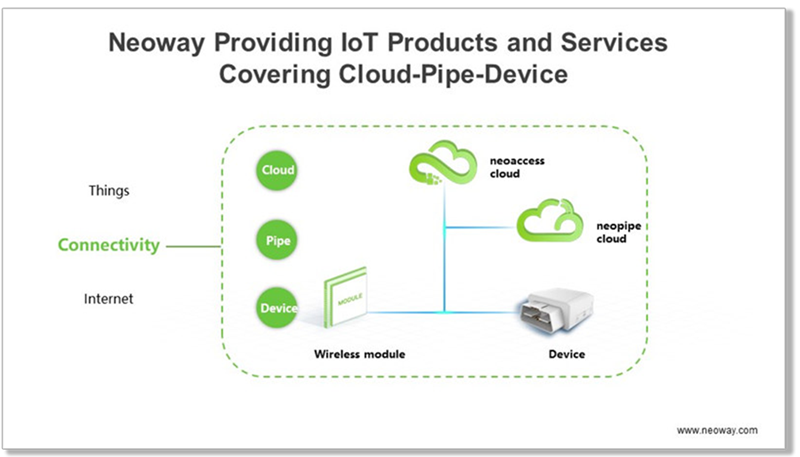 Over the years, Neoway Technology has worked with upstream and downstream partners to promote the digital and intelligent development of multiple industries. Neoway Technology signed a strategic agreement with Changsha Digital Intelligence Technology Group to jointly promote the development of new smart cities, provided platform data support and scientific decision-making means for urban emergency management system, and helped implement campus intelligent management. The world's first access communications solutions based on the cloud-pipe-device architecture provided by Neoway have been widely used in smart energy, smart transportation, smart city, industrial IoT, commercial retail, and other industries.