Showcased at Germany Embedded World, Neoway Serves Global IoT Customers with Stable, Reliable, and Secure Access Communications Services
On June 21, local time, 2022 Germany Embedded World (hereinafter referred to as Embedded World) was officially launched in Hall 5 of the Nuremberg Exhibition Center. The exhibition attracted heavyweight industry pioneers to showcase the latest technologies and products in the embedded field to the world.
With more than ten years of deep engagement in the field of global IoT wireless communications, Neoway continues to showcase new products, new solutions, and new technologies at this year's Embedded World, showing application achievements and technical strengths from multiple perspectives.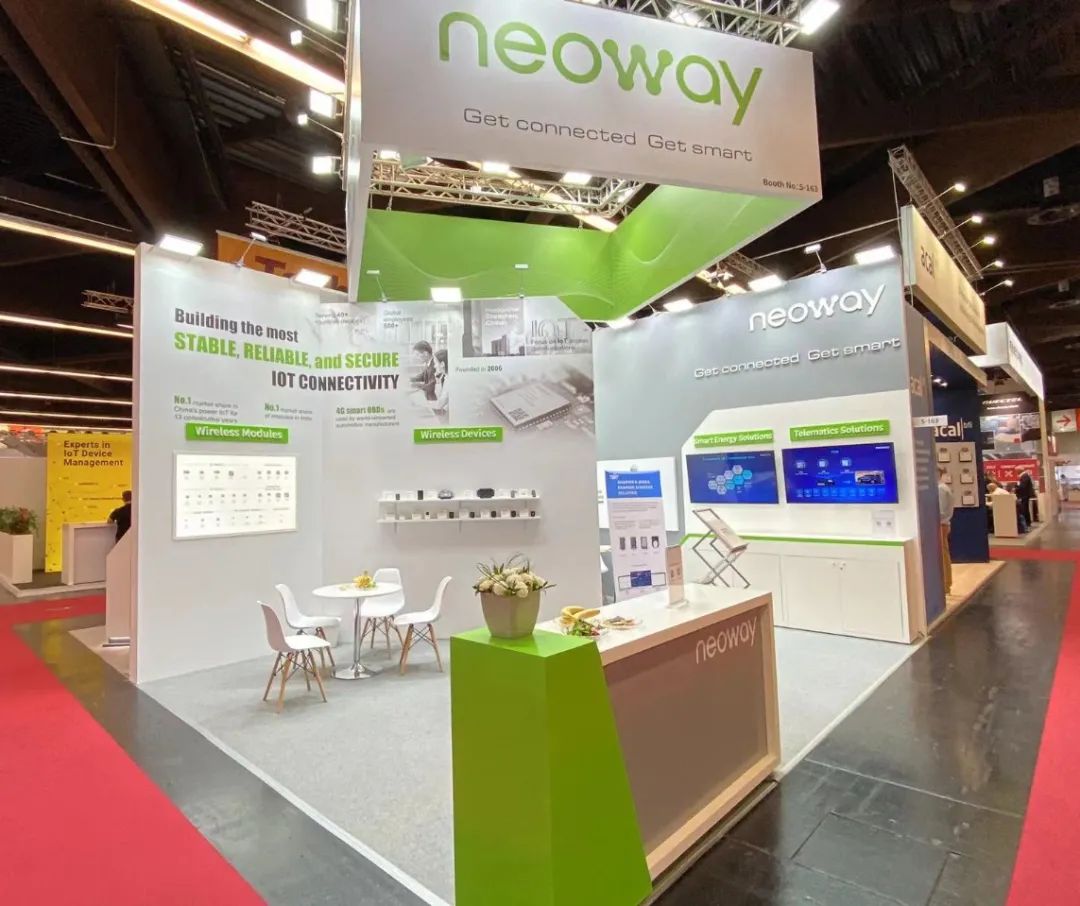 Smart Energy: Leading Smart Upgrades
According to the energy IoT market research report released by Markets and Markets, the world's leading market research organization, from 2020 to 2025, the IoT market scale in the global energy industry will grow from $20.2 billion to $35.2 billion, with a compound annual growth rate of about 11%.
Neoway has been engaged in the global energy market for many years, not only leading the energy IoT market in China, but also launching a variety of wireless communications modules suitable for the Europe energy industry according to the current network coverage and application scenarios in the Europe market. Neoway products are widely used in smart meters, smart water meters, smart gas meters, charging piles, photovoltaic equipment, and other energy terminal equipment to meet the diversified needs of customers.
4G module N720 has a small size, is embedded with rich network protocols, and supports OpenLinux secondary development. In addition, it supports multiple backups to ensure that data is not lost and has strong network compatibility. Its working temperature ranges from -40℃ to 85℃, and can adapt to high temperature and extreme cold, high humidity, unattended and other extreme environments.

4G full-mode module N75 supports global frequency bands, and has passed multiple certifications, such as PTCRB, GCF, and AT&T. Using N75 to develop smart connected products, customers can shorten the certification cycle by several months and save hundreds of thousands of dollars in development and certification costs.

Cat.1 module N58 can be pin2pin compatible with Neoway N720, N75, and other products, supports LTE Cat.1 and 2G networks, and supports Bluetooth, Wi-Fi scan, and GNSS.

Cat.M1, Cat.NB2, and EGPRS three-mode N27 supports global frequency bands (including 450 MHz in the Europe energy industry), PSM<4 uA, AWS, Azure, and other third-party cloud platforms.
In addition, Neoway's various 5G modules have been applied to many terminals, such as power gateways and FTUs, enabling the intelligence of the energy industry.
Neoway has been recognized by the industry for its stable, reliable, and secure products and services. It has held No.1 market share in China power IoT industry for 13 consecutive years. With high-quality products and rich application experience, Neoway has won double champions in the India power industry and the IoT access communications industry. Over the years, Neoway has continued to cultivate in Europe, the Middle East, Southeast Asia, and other regions, helping the global energy industry achieve stable, reliable, and secure communications upgrades, and accelerate the evolution of the industrial ecology to intelligence.
Smart Mobility: Driving Collaborative Innovation
With the integration of assisted driving, autonomous driving, and remote driving into public life, vehicles are becoming more and more intelligent, mobility methods are becoming more and more intelligent, and higher requirements are also placed on vehicle-road collaboration.
Neoway has been engaged in the telematics field since 2016, and developed the industry's first 4G smart OBD, which passed the rigorous certification of many European and American heavyweight international operators, and has achieved large-scale commercial use in North America, Europe, and Asia-Pacific markets.
At this Embedded World, Neoway demonstrated its "smart mobility solutions". In the "5G+V2X" scenario, Neoway's 5G+C-V2X automotive-grade module A590 fully supports 5G, C-V2X, eCall, dual SIM dual active, and multi-frequency multi-satellite GNSS, and has the smallest size among the 5G+C-V2X modules. A590 supports a full range of positioning systems, such as GPS and BDS. The application of RTK and QDR helps A590 meet high-precision positioning in all scenarios. A590 is suitable for vehicle T-Box, smart antenna, OBU, RSU, smart cockpit, in-vehicle central control, and other intelligent connected vehicle application scenarios. This provides strong support for smart vehicle safe driving and even autonomous driving, and helps the intelligent connected vehicle industry accelerate into the 5G era.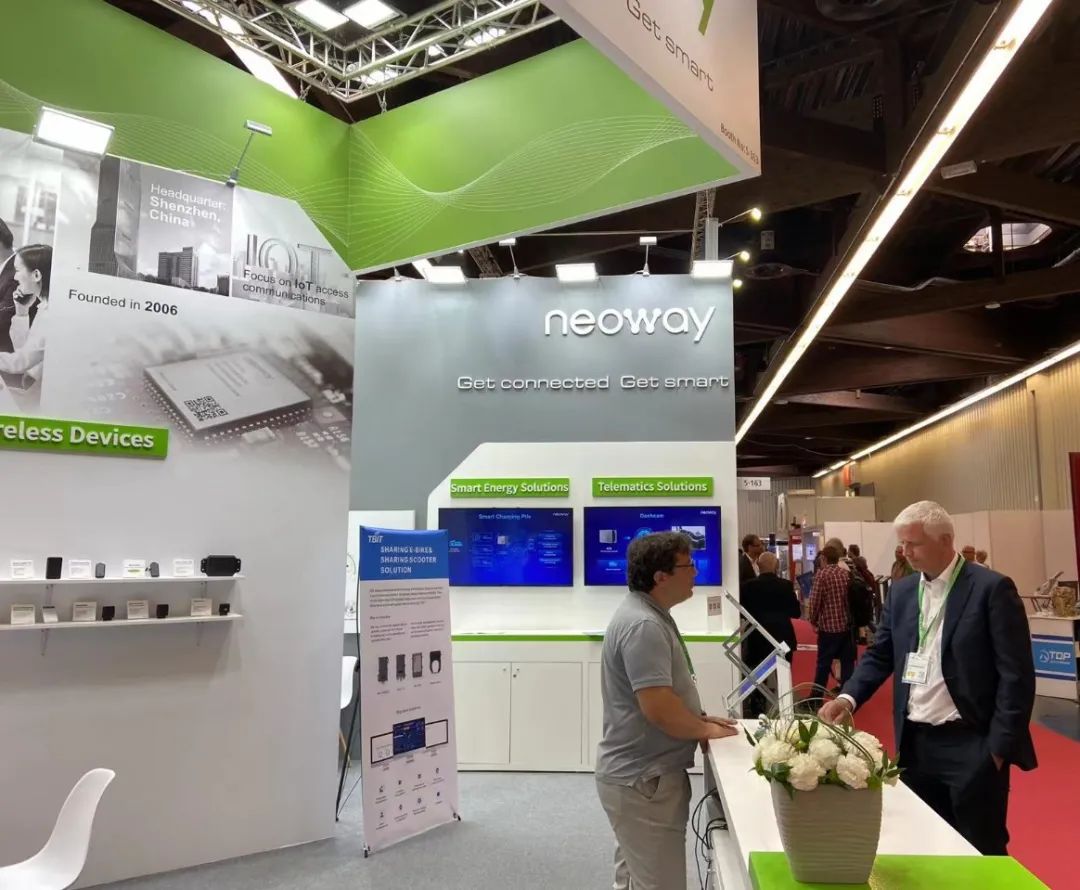 The in-vehicle communications solutions of Neoway's 4G automotive-grade module A70, 4G module N720, Cat.1 module N5, and other products can be applied to OEM telematics 360° surround view, intelligent navigation, driving record, vehicle condition monitoring, aftermarket vehicle positioning, asset tracking, fleet management, UBI, and other scenarios, empowering vehicle-road collaboration. In the two-wheeler industry, Neoway products can be used in many application scenarios, such as electric scooters, personal mobility, shared mobility, and delivery mobility, and win customer satisfaction with excellent product performance and services.
Telematics terminals equipped with Neoway products have been applied in the United States, Canada, Brazil, Spain, Italy, Russia, India, Vietnam, and other countries and regions.
Neoway has been actively engaged in the global market in recent years, and has established local teams in Europe, America, India, and other countries and regions to provide more timely, efficient and localized services to global customers. Neoway adheres to converged innovation, and uses the "cloud-pipe-device" integrated communications solution to help the smart upgrades of industry applications. To win customer satisfaction is the sole purpose of Neoway's existence. Neoway builds stable and reliable IoT access communications for customers in industries, such as smart security, industrial monitoring, financial payment, smart city, and equipment sharing. Neoway will continue to provide more stable, reliable and secure access communications for industrial IoT, making human society more environmentally friendly, more efficient, and more convenient.