Neoway's Cat.M Module N27 Commercially Used in the Europe Power Market
The power industry is the earliest industry of intelligent construction. Since the concept of smart grid was first proposed by State Grid in 2009, Neoway Technology has been accompanying the growth of China's power grid, and serving markets outside China by using technology and experience. With the gradual withdrawal of 2G and 3G from the network and frequency reduction around the world, Neoway has seized the opportunity to serve the Europe power market. Neoway uses LTE Cat.M module N27 to collaborate with top meter manufacturers in China to serve the Europe power market, and will strongly promote the popularization and large-scale application of LTE Cat.M modules in the smart energy industry outside China.
N27 is a three-mode LWPA module that covers the global frequency bands and supports Cat.M1/Cat.NB2/GPRS to meet the wireless communications needs of various application scenarios in smart grids in high-end markets, such as Europe and the United States.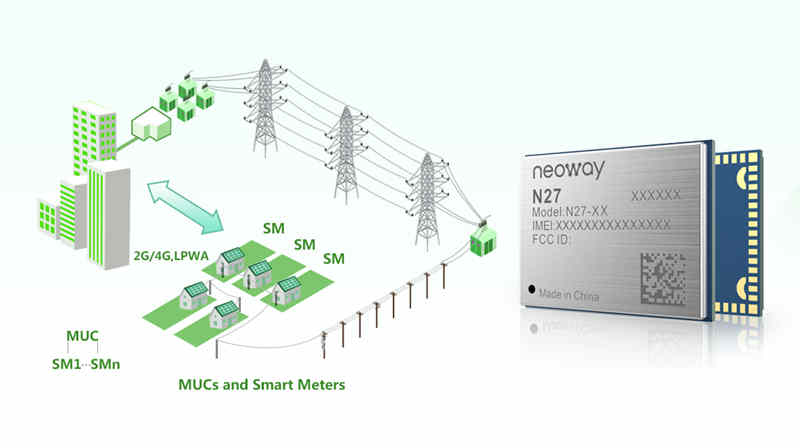 In the power consumption, distribution, and other aspects, smart meters and various terminals equipped with Neoway N27 modules can implement stable and efficient data transmission, meter reading, real-time remote monitoring, and on-site visualization. This implementation solves the problems of unstable network communications, easy disconnection of equipment, easy loss of data, difficult remote upgrade of equipment, and difficult operation and maintenance.
P

owerful platform: N27 is developed based on Qualcomm chip platform, and uses LGA package and compact design.

Comprehensive performance: N27 supports global frequency bands (including 450 MHz), and its maximum transmit power is 23 dBm (Class 3).

Precise positioning: N27 supports GPS, BDS, GLONASS, Galileo, QZSS, and other positioning.

Convenient development: N27 supports Open ThreadX development and supports third-party protocols, such as AWS, Azure, Tuya Link, Alibaba, and Huawei Cloud, providing rich choices for implementing applications in thousands of industries.

High security: In terms of securit

y architecture, N27 can meet the security requirements of different customers, and add corresponding security encryption certificates to guarantee secure data transmission.
N27 has passed many certification tests, such as AT&T, GCF, PTCRB, Deutsche Telekom, IC, CE, and FCC. Neoway can provide products and services to countries and regions, including Europe and America, and can also help customers who develop products based on N27 to quickly enter the corresponding markets, shorten the communications test and certification periods, and effectively help customers reduce costs. N27 has been applied in smart grid, logistics tracking, and other industries.