Neoway and UNISOC Held an International Webinar to Promote the Implementation of AIoT Applications
On May 26, 2022, Neoway and UNISOC held a "Get connected, Get smart" webinar to share and discuss the application trends and key technologies of smart communications chipsets and modules in the IoT market for global IoT industry customers.
According to ABI research data, the total shipments of smart modules are expected to exceed 32 million pieces in 2024, corresponding to a market size of about 720 million US dollars. Among them, the applications of high-end smart modules are increasing rapidly, and the compound annual growth rate of shipments from 2020 to 2024 can reach 150%, which is expected to exceed 8 million pieces, corresponding to a market size of more than 400 million US dollars.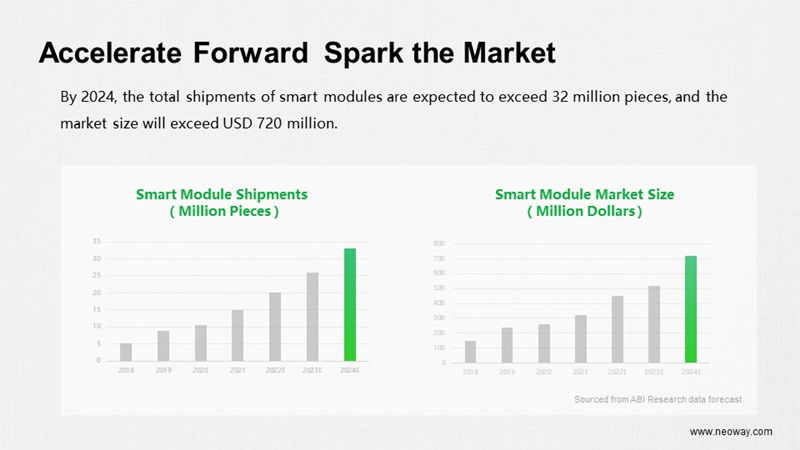 With the rapid growth of smart module shipments and broad market prospects, more and more industries are no longer satisfied with basic connectivity functions. Instead, they have higher-level intelligence requirements, such as multimedia video interaction, app implantation, access to different display devices, facial recognition, and facial recognition payment, requiring high computing power on modules; support for GNSS, Wi-Fi, and BT/BLE, and extended serial connections of LCM, camera, sensor, NFC, fingerprint recognition, and other external devices require modules to support more functions.
Smart modules are developing and evolving towards high performance, high integration, and full function with cellular communications as the core. Computing power and performance of smart modules are improved in multiple dimensions to meet the requirements of the comprehensive applications of video codec, AI, and other fields. Smart modules provide the IoT market with a more integrated and simplified AIoT communications solution on the basis of wireless communications modules, by using rich interfaces and open development concepts.
Neoway and UNISOC have a forward-looking insight into the needs of the industry, and recently launched the smart modules S720 and S726. S720 and S726 serve different vertical industries by using different product capability levels, helping customers to choose flexibly, simplifying application development, and reducing investment costs.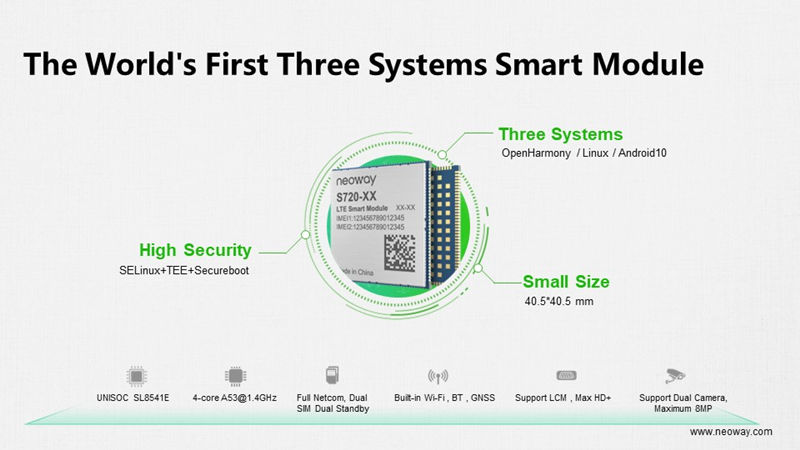 S720 can meet the diversified applications of different developers and supporting ecosystems, and combine with market development to create and upgrade more traditional applications, based on the support of the three systems.
In the telematics field, to meet the increasing user experience requirements and function diversification requirements of in-vehicle multimedia, the smart module S726 can help quickly build in-vehicle multimedia application terminals, and quickly implant mainstream apps in the market to enrich applications; 8-core high computing power provides basic support for ADAS and DSM fatigue driving detection algorithms, improving the overall competitiveness of the product.
Markarand Kale from Neoway's Europe and Asia Operations Department said, "In Neoway's smart module family, there are already nearly 10 smart modules, covering from entry level to flagship level, serving global smart energy, commercial retail, smart home, smart education, telematics, smart security, smart industry, and other vertical industries to provide solutions with differentiated performance, computing power, and cost. In the 5G era, we will continue to develop flagship products and build a more complete family of smart modules to provide technical support to meet higher industry requirements."
Neeraj Sharma from UNISOC said, "UNISOC has provided integrated circuit products for global IoT terminals since the 2G era. In the 5G era, our products have penetrated into thousands of industries and people's production and life. UNISOC has become a global leading cellular IoT chip company both in the overall market size and segmentation fields. UNISOC and Neoway have jointly developed many products, such as NB-IoT, 4G Cat.1, 5G, automotive-grade, and smart modules, providing a huge driving force for industry applications and ecological construction. UNISOC will continue to collaborate with Neoway to accelerate intelligent connectivity of all things."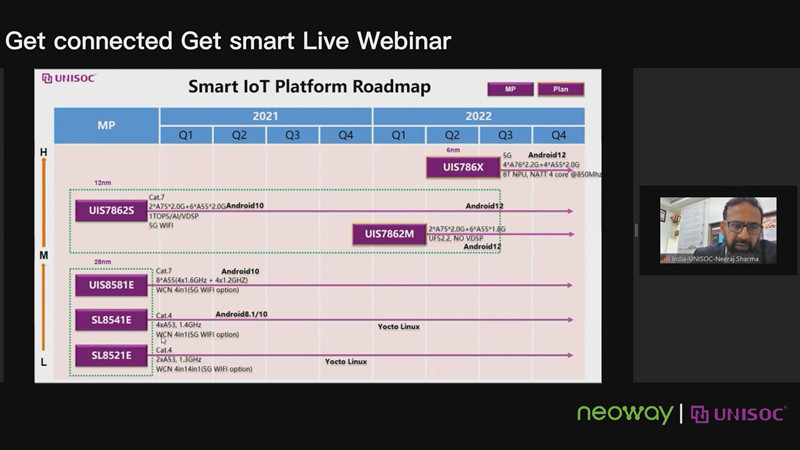 To view the video playback for this webinar, please visit https://www.linkedin.com/company/neowaytechnology/?viewAsMember=true