Neoway Launches New 4G/5G Telematics Modules to Provide Better Communications Options for Connected Vehicles
At present, telematics modules are mainly used in smart terminals such as T-Box, of which more than 80% are 4G modules. With the popularization of intelligent driving, the installed capacity of telematics modules will be further increased. According to the forecast of Zosi Automobile Research Institute, it is expected that the installed capacity of global telematics modules will reach 200 million in 2025, with a compound annual growth rate of about 15% from 2020 to 2025. The installed capacity of China's telematics modules will reach 90 million pieces, and the compound annual growth rate will reach about 19% from 2020 to 2025. In the background of the global "chip shortage", more and more Chinese chips are used.
Although 4G is still the mainstream of the current telematics market, with the vigorous development of 5G, telematics will also enter a new track. It is estimated that by 2025, the assembly rate of China's telematics 5G modules will reach about 35%, and it is expected to achieve large-scale coverage of C-V2X on key highways and urban roads. Before the arrival of C-V2X, pure 5G modules can better meet the needs of telematics applications that have high communications requirements for low latency, wide connectivity, and high reliability.
To meet the needs of 4G focusing on the present and 5G creating the future, Neoway recently launched the N725 and A590b telematics modules to provide customers with the most competitive choices at the moment.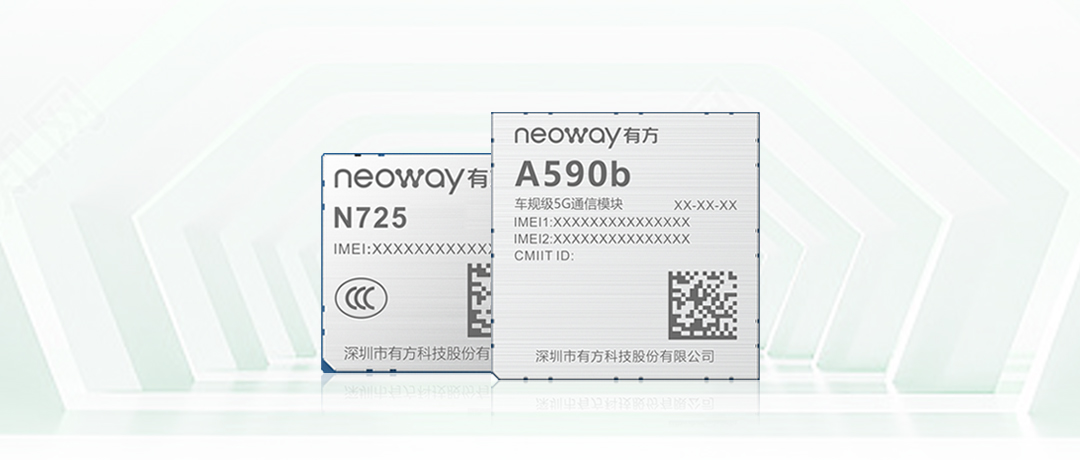 Under the trend of intelligent, connected, and shared vehicles, the value brought by stable and reliable wireless communications is self-evident, and the importance of network security and data security has also increased significantly. Neoway's N725 and A590b telematics modules increase the comprehensive security guarantees of startup security, system security, communications security, data protection, encryption algorithms, and more in the process of telematics communications. This effectively promotes the secure and reliable development of telematics.
N725 and A590b have been commissioned and verified in 4G/5G T-Box, OBU, RSU, and other telematics terminals. Their stable, reliable, and secure communications quality has been recognized by industry customers, providing customers with the most competitive choices at present. At the same time, under the trend of the rapid development guided by the telematics strategy, Neoway will continue to develop more excellent products to support stable and secure vehicle communications. This is to help "smart vehicles" drive on "smart roads", and promote the construction of new digital integration infrastructure, such as C-V2X, smart transportation, and smart city.