Neoway Showcased at EV Expo, Accelerating Development of New Energy Vehicles in India
From August 5th to 7th, 2022, the 15th Electric Vehicles Expo in India (hereinafter referred to as EV Expo) was held in New Delhi. EV Expo is the only expo in India that focuses on the electric vehicle industry. It brings together global leading companies in the electric vehicle and power drive system industries, to explore new technologies and new business models in the electric vehicle industry, and promote the development and innovation of the electric vehicle industry.
Under the guidance of the Indian government's strong support for the development of the electric vehicle industry, the market share of electric vehicles has gradually increased. According to the data of the India Energy Storage Alliance (IESA), the India electric vehicle market is expected to grow by the compound annual growth rate of 44% from 2020 to 2027.
Neoway, as a telematics technology provider (TTP) in the industry chain, showcased at this EV Expo, and demonstrated the telematics communications solutions for the application scenarios of four-wheel vehicles and two-wheel vehicles.
Leading the accelerated development of E2W
Neoway has early deployment, early commercial use, and early breakthrough in the electric two-wheel vehicle (E2W) market, and collaborates with well-known two-wheel electric vehicle manufacturers in India. Neoway provides smart modules with excellent performance to enable smart upgrades for OEM telematics of electric two-wheel vehicles, and leads the market position.
In the aftermarket of two-wheel vehicles, Neoway Cat.1 module N58 has been successfully applied to two-wheel vehicle tracker, ECU, and other terminals. N58 helps locate vehicles and replay driving tracks, provides the efficient control of two-wheel vehicles, and helps reduce the theft rate and guarantee the property safety of users.
Neoway's wireless communications products can also meet the requirements in many application scenarios, such as electric scooter, consumer mobility, shared mobility, takeout/express delivery, and shared power exchange. Neoway wins customer satisfaction with excellent product performance and services.
Efficiently empowering the comprehensive applications of electric vehicles
Since the 4G era, Neoway has been engaged in the telematics field, and has accumulated rich commercial experience in the OEM telematics market. N58, A70, N75, N720 and other modules showcased at this EV Expo have achieved success in the OEM telematics market.
The industry's first Cat.1 module N58 launched by Neoway is pioneered in the application of T-Box and smart charging piles for vehicles. N58 has been successfully commercially used in many well-known automotive models in China. This greatly reduces the cost of automotive companies and makes it possible to upgrade more economical models to connected cars.
4G automotive-grade modules A70 and 4G modules N75 developed by Neoway can be perfectly adapted to in-vehicle T-Box, smart antennas, and other OEM telematics terminals, as well as tracker, OBD, Dashcam, and other aftermarket terminals. They empower applications such as driving recording, vehicle condition monitoring, intelligent navigation, vehicle positioning, and automotive financing.
Neoway's various in-vehicle products have been commercially used in various models of well-known automotive manufacturers, such as NISSAN, Audi, Skoda, Chery, and Dongfeng, helping the intelligent and networking upgrades of automobiles.
In the 5G era, the rapid development of 5G makes C-V2X even more powerful. At this EV Expo, Neoway's 5G+C-V2X automotive-grade module A590 has excellent performance in terms of product performance, communications stability and reliability, and module size. A590 can meet the requirements of high-precision positioning in scenarios, and is suitable for various intelligent and networked automotive scenarios, such as in-vehicle T-Box, smart antenna, OBU, RSU, smart cockpit, and in-vehicle central control. This provides strong support for smart automobile safe driving and even autonomous driving, and helps the intelligent and networked automobile industry accelerate into the 5G era.
In the aftermarket, Neoway developed the industry's first 4G smart OBD, which has passed the stringent certifications of many European and American top international operators, and has been widely used in the United States, Canada, Spain, Italy, Brazil, India, Vietnam, and other countries.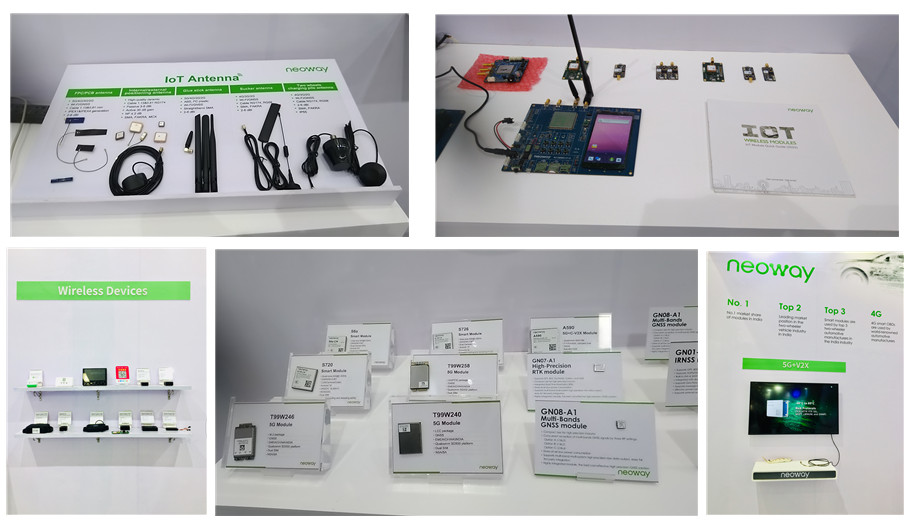 In the past few years, India has made positive attempts in the IoT construction. Data predicts that the India IoT market will continue to grow rapidly in the next few years, from 4.98 billion US dollars in 2020 to 9.28 billion US dollars in 2025, and predicts large-scale development in industries, including telematics, energy and utilities, smart city, retail, and logistics. After several years of hard work in the India market, Neoway achieved the No. 1 market share of modules in India in 2021 Q4. Smart modules are used in top three two-wheel manufacturers in India and rank top 2 in the two-wheel market. With continuous efforts in the field of electric vehicles, Neoway wins customer satisfaction, which is the result of Neoway's leading technology, stable and reliable products, and professional and efficient localized services.