Neoway IoT Operation Management Service Platform Passed the "3-Level Security Classified Protection" Certification to Safeguard Construction of the Urban IoT System
A few days ago, Neoway IoT operation management service platform passed the 3-level security classified protection certification of the national network system (hereinafter referred to as "3-level classified protection").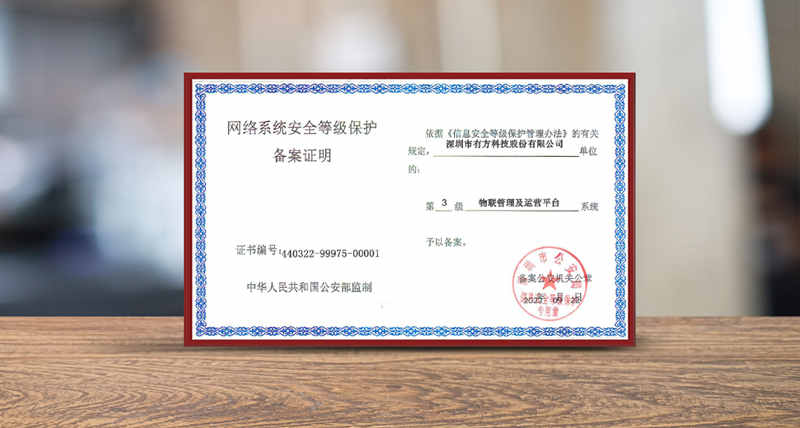 The network system security classified protection certification was approved and issued by the Ministry of Public Security. It is national-level certification for assessing network system security classified protection. It is divided into five levels, of which the 3-level classified protection is the highest-level certification for non-bank institutions, belongs to the regulatory level and is supervised and inspected by the national information security regulatory department. The certification test covers 73 categories and nearly 300 requirements and involves many aspects such as network architecture, access control and intrusion prevention.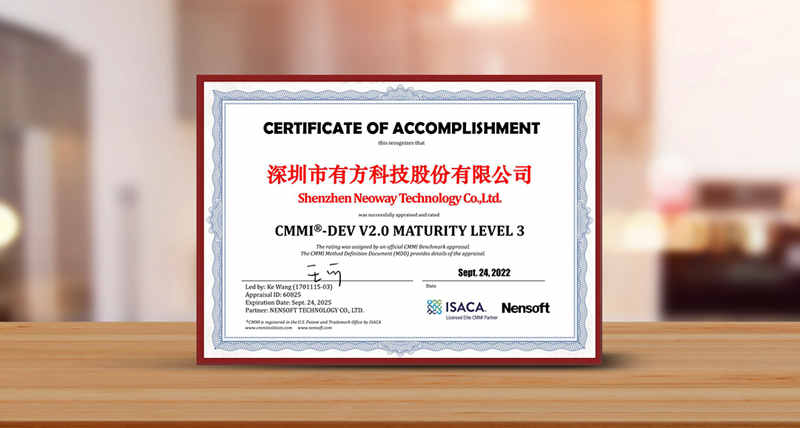 The 3-level classified protection shows that Neoway IoT operation management service platform has reached the leading level in the aspects such as network security protection, data confidentiality and privacy protection and is capable of providing the most secure platform products and services for government and enterprise users and providing solid security guarantee for deepening the construction of new smart cities, for promoting urban data integration and sharing and service collaboration and for improving the urban comprehensive management service capability.
Before that, Neoway also passed the Capability Maturity Model Integration (CMMI) 3-level certification of the Information Systems Audit and Control Association. CMMI is the software capability maturity integration model. After Neoway passed the CMMI 3-level certification, it means that Neoway has taken a new step in the development and management of software projects. Its software project estimation and control capabilities have increased by 40% to 50%, the productivity has increased by 10% to 20% and the error rate of software products has dropped by more than 1/3.
Neoway focuses on the "connectivity" of IoT, so as to provide communications products and related services for governments, IoT service providers, and intelligent interconnection product manufacturers. Based on the insight and understanding of customer needs, the company officially launched "Two Clouds" in April 2019, combining the advantages of Neoway in wireless communications modules and devices, and formed a total solution for access communication based on the cloud-pipe-device architecture. As an enhanced version for Neoaccess Cloud, Neoway IoT operation management service platform is the digital base of metropolitan IoT. It integrates the "construction, management, application and operation" functions of the metropolitan IoT system, enables new digital city builders and operators to quickly realize standardized and unified access to IoT sensing equipment, panoramic data linkage, intelligent Internet management and scenario-based situational awareness, avoids repeated construction of platform infrastructure, reduces the access threshold of devices with different standards in different scenarios, improves data analysis and governance capabilities and promotes creation of a new type and model of data co-construction and sharing.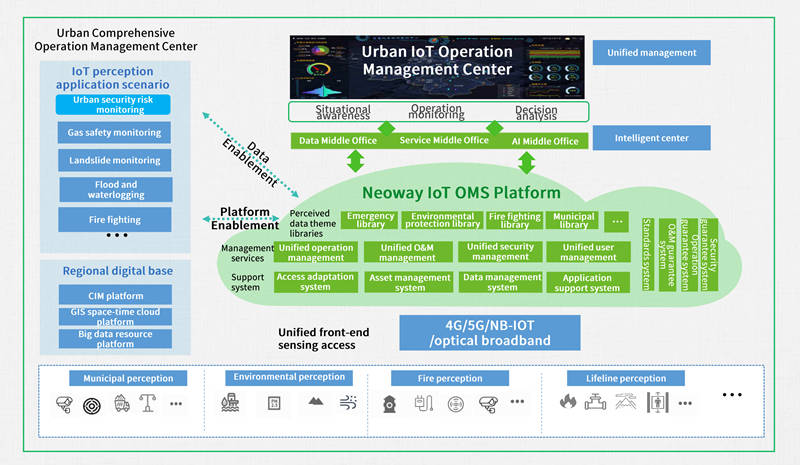 At present, Neoway IoT operation management service platform has been applied in multiple cities, counties and districts such as Changsha, Chengdu, Shenzhen and Wuhan. It has included into management hundreds of sensing terminals in many application scenarios such as dangerous building monitoring, urban waterlogging monitoring and early warning, geological disaster monitoring, fire protection and fire monitoring, bridge anti-collision early warning, smart parks, water conservancy and meteorology, greatly improving the urban governance capability and level of governments.