Neoway's Showcase at Convergence India 2023 Empowers the Advancement of the Internet of Things Market in India
The 30th Convergence Communications Expo India (Convergence India 2023) was held in New Delhi from March 27 to 29, local time. This global event brought together more than 50,000 visitors from 40 countries worldwide to present and exchange cutting-edge technologies, products, and solutions in the communications industry.
Neoway cloud-pipe-device integrated access communications solutions and services were prominently featured at the event again, highlighting the company's latest application achievements in intelligent energy, vehicle networking, and other fields.
Neoway cloud-pipe-device solutions are making a strong push toward the international market
Since its debut at the Embedded World 2023 Nuremberg in March, Neoway cloud-pipe-device integrated access communications solutions and services have gained the attention of numerous clients in the IoT industry, which has further reinforced Neoway's products and brand image for stable, reliable, and safe access communication.
Cloud: The Neoaccess Cloud launched by Neoway is a capability support platform that provides one-stop front-end access, data governance, and service management for IoT applications. It serves metropolitan, industry, and enterprise-class IoT service providers and achieves unified and standardized access and management of sensing devices, data governance and sharing, and service operation and management.

Pipe: Neopipe Cloud, the first IoT communication quality management platform in the industry, helps customers such as IoT service providers, intelligent product manufacturers, and telecommunication operators monitor and analyze communications quality and quickly locate communications failures of sensing devices and achieves remote operation and maintenance, thereby improving network availability and achieving device management and traffic management.

Device: Since 2006, Neoway has provided global customers with hundreds of wireless communications modules and ODM devices, involving 2G, 3G, 4G, 5G, NB-IoT, and eMTC. It provides stable, reliable, and secure access communications for customers in many industries such as smart energy, Internet of Vehicles (IoV), industrial IoT, commercial retail, and digital smart city.
Intelligent energy: Continuing to lead the intelligent upgrade of the energy industry
Neoway's pioneering work in the field of wireless communication for the energy Internet of Things has made it a leading player in the industry. Since the 2G era, Neoway has been deeply rooted in the Indian energy market, and has extended its wireless communications products such as 3G, LTE Cat. 4, NB-IoT/eMTC, LTE Cat. 1, and others to the Indian power IoT market. Neoway will continue to provide stable and reliable access communications solutions for the intelligent upgrades and digitalization of India's power IoT in power generation, transmission, distribution, power consumption, and other links.
At present, many of Neoway's wireless communications products have been successfully applied to energy meters, energy gateways, charging piles, photovoltaic equipment, and other energy terminal equipment of customers such as L & T, and Genus Power.
Currently, Neoway ranks first in the market share of the Internet of Things in India.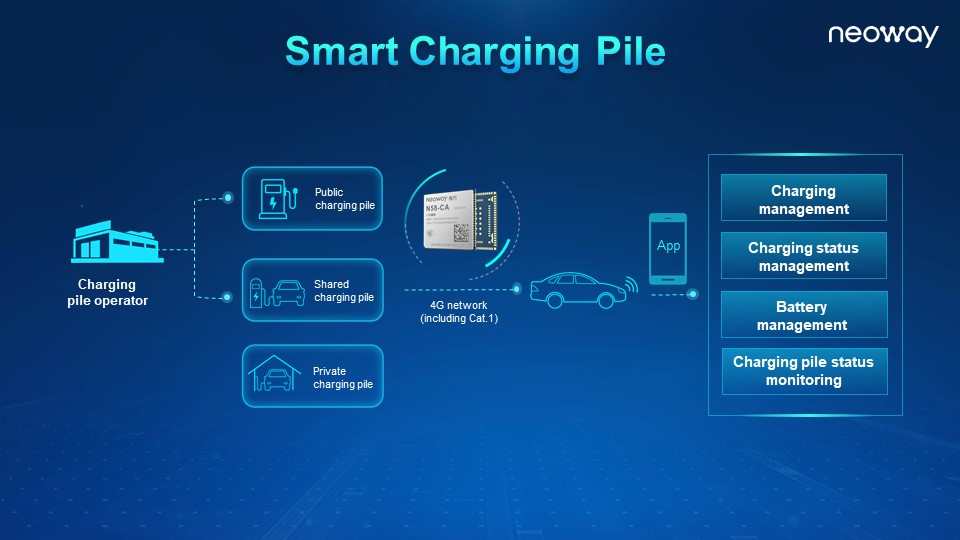 Internet of Vehicles: Focusing on propelling the development of vehicle networking
Neoway's rich commercial experience in the Internet of Vehicles market was demonstrated at Convergence India 2023, where it showcased numerous wireless communications modules and application cases that can be applied to two-wheeled and four-wheeled vehicle terminal products.
The market for electric two-wheeled vehicles in India has experienced rapid growth in recent years, primarily due to the country's underdeveloped road infrastructure and relatively low personal income levels. In response to the burgeoning Indian electric two-wheeled vehicle market, Neoway has entered into collaborations with prominent Indian vehicle manufacturers such as Mahindra, Ather, and Itriangle to facilitate intelligent upgrades for these vehicles. Neoway's LTE Cat. Module N58 has achieved successful application in the after-sale installation market for Tracker, ECU and other terminals in two-wheeled vehicles, enabling vehicle positioning and trajectory playback, allowing for efficient control of two-wheelers, reducing the risk of theft, and ensuring the safety of users' property.
In recent years, the electric vehicle market in India has displayed a significant upsurge, with increasing indicators of growth. The LTE Cat. 1 module N58 showcased at Convergence India 2023, along with other wireless communications module products such as the LTE Cat. 4 modules N75, N77, N723, and N725 are ideal for integration into vehicle pre-installation and after-sale installation terminals including T-BOX, smart antenna, Tracker, OBD, Dashcam, DVR, smart dashboard, on-board charging pile, BMS, among others. These modules facilitate various applications such as vehicle driving records, vehicle condition monitoring, intelligent navigation, vehicle positioning, automobile finance, and more. The 5G + C-V2X automotive-grade module A590, is well-suited for IoV applications such as vehicle T-BOX, smart antenna, OBU, RSU, smart cockpit, and vehicle central control. It facilitates high-precision positioning across various scenarios and leads the Indian vehicle networking market into the 5G era.
Neoway is a Telecommunication Technology Provider (TTP) for vehicle networking in the industry chain. In addition to its core products, Neoway also offers ODM services to global TSP, Tier1, and OEM clients, encompassing a wide range of products such as OBD, Tracker, Dashcam, among others. It has received certification from major telecommunication and automotive manufacturers, including AT&T, T-Mobile, Audi, Nissan, FCA, and Skoda.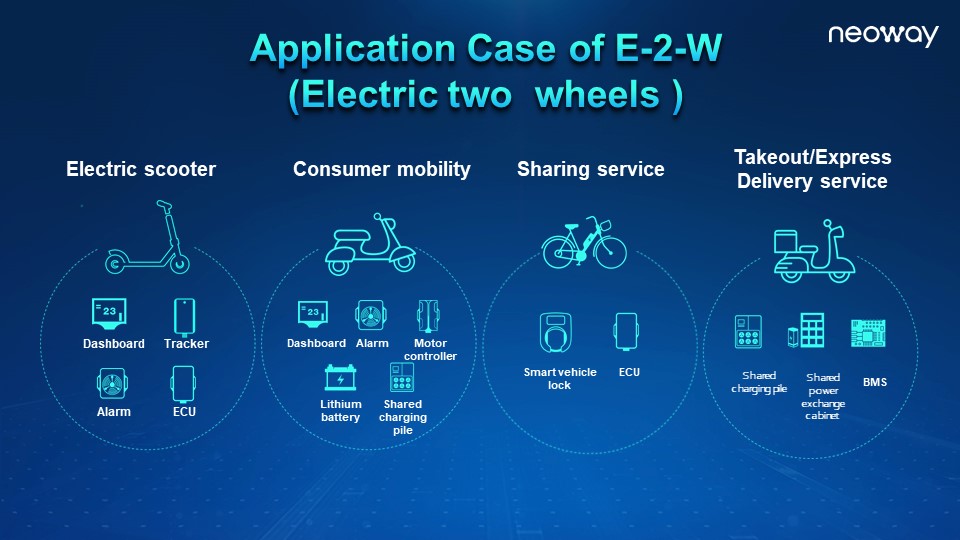 In response to the swift growth of the Indian Internet of Things market and the needs of customers, Neoway has been increasing its efforts in the Indian market in recent years. The company has established a localized team, invested more in human resources, and promoted the swift development of terminal networking, application intelligent upgrades, and industrial intelligent upgrades in India through outstanding products and efficient services.