First Show of Neoway's Cloud-Pipe-Device Solution in Europe, a New Journey of Internationalization
On March 14, 2023, Embedded World 2023 (EW2023), an annual event, was held in Nuremberg, Germany. Relying on the cloud-pipe-device access communications solution, Neoway participated in EW2023, realizing the first show of cloud-pipe-device solution in an overseas exhibition and comprehensively helping overseas Internet of Things (IoT) customers achieve intelligent digital upgrade of products and services with a unique cloud-pipe-device solution.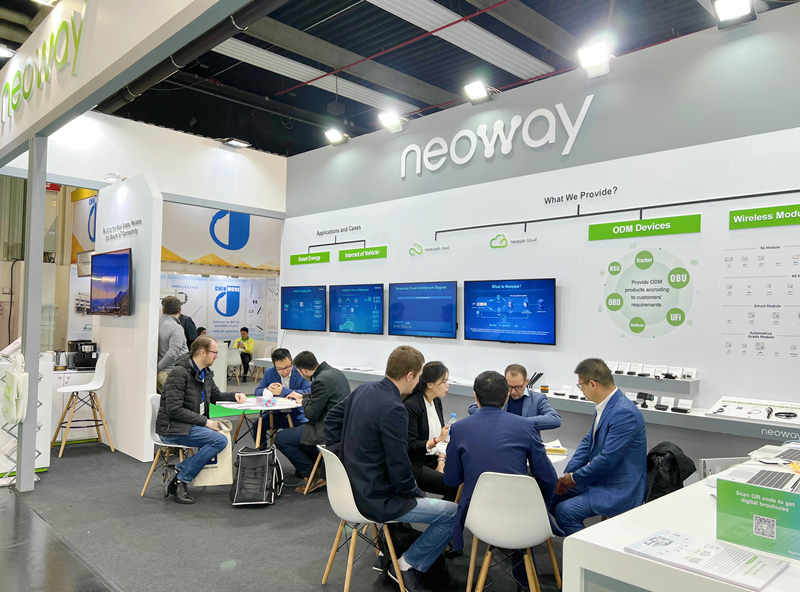 First Debut of Neoway Cloud-Pipe-Device Solution on the International Stage
Neoway has been deeply engaged in the field of IoT communication for 17 years. Based on customer pain points and industry needs, it launched a cloud-pipe-device integrated access communication solution. In EW2023, this is also the first show of the cloud-pipe-device solution on the international stage. Its comprehensive and professional technology and product capabilities were highly recognized by customers in the IoT industry.
Cloud: The

Neoaccess Cloud launched by Neoway is a capability support platform that provides one-stop front-end access, data governance, and service management for IoT applications. It serves metropolitan, industry, and enterprise-class IoT service providers and achieves unified and standardized access and management of sensing devices, data governance and sharing, and service operation and management.

Pipe: Neopipe Cloud, the first IoT communication quality management platform in the industry, helps customers such as IoT service providers, intelligent product manufacturers, and telecommunication operators monitor and analyze communication quality and quickly locate communication failures of sensing devices and achieves remote operation and maintenance, thereby improving network availability and achieving device management and traffic management.

Device: Since 2006, Neoway has provided global customers with hundreds of wireless communication modules and ODM devices, involving 2G, 3G, 4G, 5G, NB-IoT, and eMTC. It provides stable, reliable, and secure ac

cess communications for customers in many industries such as smart energy, Internet of Vehicles (IoV), industrial IoT, commercial retail, and digital smart city.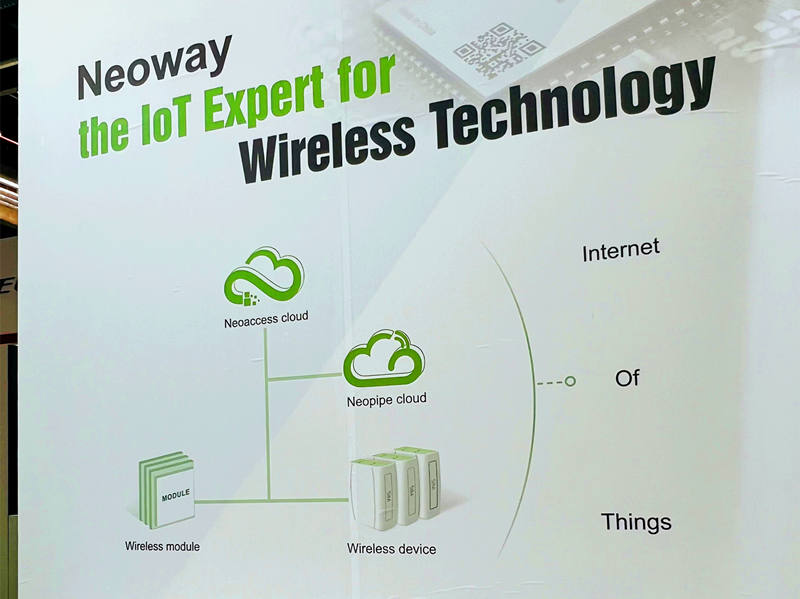 IoV: The 5G+C-V2X Product Entered Europe, Making Collaborative Development of Vehicles and Roads Possible
Since the 4G era, Neoway has provided automotive customers with multi-standard and multi-form access communication products and solutions. In the 5G era, Neoway launched the 5G+C-V2X automotive-grade module A590 and solution. As the demand of Europe for 5G+C-V2X grows increasingly, Neoway has carried out cooperation with multiple European customers concerning A590 product.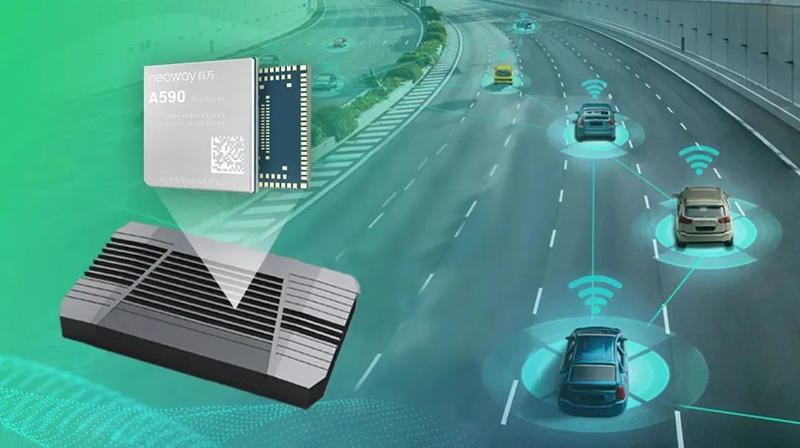 A590 is a 5G+C-V2X automotive-grade module launched by Neoway. Developed based on Qualcomm chip platform, it complies with IATF 16949 and AE

C-Q100 standards and provides stable and reliable vehicle communication services for vehicles. A590 supports dual-SIM dual-active and meets the requirements for reliable communication. It integrates Qualcomm single frequency/dual frequency GNSS positioning system, completes RTX algorithm integration and QDR directional integrated navigation, and meets the precise positioning requirements in various special scenarios. It adopts a 4x4 MIMO high-performance detached antenna and ensures high-quality communication performance.

The OBU product based on A590 completed the "Four-layers" demonstration in 2022 (four layers represent cross chipset modules, cross terminals, cross different

vehicles, and cross communications security systems). Neoway joined hands with industrial partners such as Foxconn Industrial Internet Co., Ltd., Neosoft, China Mobile, and Stellantis to complete the test across chip modules, terminals, vehicles, and security platforms and achieved function demonstration in the V2V and V2P scenarios such as blind zone/lane change warning, collision warning for vulnerable traffic participants, and perceptual data sharing and V2I scenarios such as collaborative lane change, dynamic lane management, and floating vehicle data collection. This marks that the 5G+C-V2X module of Neoway can provide stable, reliable, and secure communication guarantee for vehicles and roadside infrastructure, effectively supporting network connected vehicles in achieving safe and intelligent driving.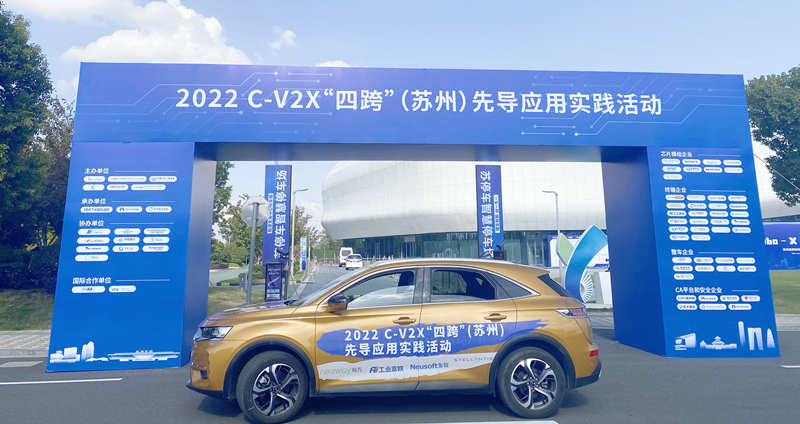 In addition, multiple star wireless communication modules of Neoway are also used in vehicle front and rear loading scenarios such as T-Box, DVR, intelligent dashboard, on-board charging pile, and BMS, involving multiple models such as two-wheeled vehicles, three-wheeled vehicles, and four-wheeled vehicles, passenger vehicles, and commercial vehicles.
Neoway also provides TSP, Tier 1 and OEM customers worldwide with IoV terminal products and ODM services, involving OBD, Tracker, and dashcam. It successively passed the test and certification of AT&T, T-Mobile, Audi, Nissan, FCA, and Skoda and has been commercially available in the IoV industry in Europe and the United States.
Smart Energy: Take the Lead in Multiple Markets, Leading Intelligent Upgrade of the Industry
Over the years, Neoway has laid out the global energy market. While leading the IoT market in China, it also launched a number of NB-IoT, Cat.M, Cat.1, and Cat. 4 modules applicable to the European energy industry based on the current network situation and application scenarios in the European market, which are widely used in energy terminal devices such as smart electricity meters, smart water meters, smart gas meters, energy gateways, charging piles, and photovoltaic devices.
Neoway has ranked the first in terms of market share in China's electric power IoT industry for 14 consecutive years. Relying on high-quality products and rich application experience, Neoway takes the lead in the Indian power industry and the field of IoT access communication.
As an IoT communication expert, Neoway will continue to provide IoT customers with stable, reliable, and secure access communication based on the cloud-pipe-device architecture, provide global customers with all-round technical empowerment from the IoT platform to terminals, and help IoT customers quickly achieve intelligent digital upgrade, further increase data value, and improve operational efficiency and effectiveness.