Neoway: Innovate in the IoT System and Enable Smart Urban Governance
On November 14, 2022, the first Mobile Internet of Things Conference themed by "New Transcendence of Mobile Internet of Things, New Era of Intelligent Internet for All Things" was held in Wuxi. Neoway attended this conference, exchanged and discussed in an in-depth manner with relevant leaders of national competent authorities, academicians, experts, scholars, representatives of local mobile Internet of Things (IoT) industrial parks, mobile IoT-related enterprises and research institutions on industrial policies, landing application scenarios, industrial planning and deployment and digital transformation to build a digital economy by using advanced concepts and professional technologies and promote development of the IoT industry.
At present, China has built the largest mobile IoT in the world. At the end of August 2022, China officially entered the era of "IoT connections surpassing mobile users", becoming the first country to achieve the surpassing among major economies in the world. That is to say, the mobile network has further developed from serving people and information consumption to serving all works of life, making the vision of "Internet of Everything" a reality, which marks that China is leading the development of the global mobile IoT ecosystem and brings huge development opportunities to related industries.
In the process of "new infrastructure construction", Neoway has made great efforts to build a city-level IoT system solution and model and independently developed Neoway Smart City IoT Operation Management Service Platform to provide one-stop front-end access, data governance and service sharing capabilities for IoT applications, adapt to polymorphic and multi-type IoT application scenarios and support the construction and implementation of the IoT system at all levels and departments.
Luo Wei, vice president of Neoway, delivered a keynote speech "Innovate in the IoT System and Enable Smart Urban Governance" in the sub-forum "Mobile Internet of Things Tamps the Base of Digital Economy". At present, the construction of a metropolitan IoT system is faced with the issues, for example, the infrastructure needs to be improved, the perception front-end needs to be built and integrated and the IoT system lacks standards and specifications. For this reason, Neoway proposed a new idea and model of building, managing, operating and using the urban IoT system to achieve unified planning and construction, unified access and unified management of the urban IoT system, provide high-quality service operation and help governments at all levels achieve sharing of resources, capabilities and services of the urban IoT system. Through the "1+1+1+N" path, we will realize truly efficient construction and sustainable and healthy operation of the city-level IoT system, further activate diversified investments in the IoT and promote development of the urban IoT industry.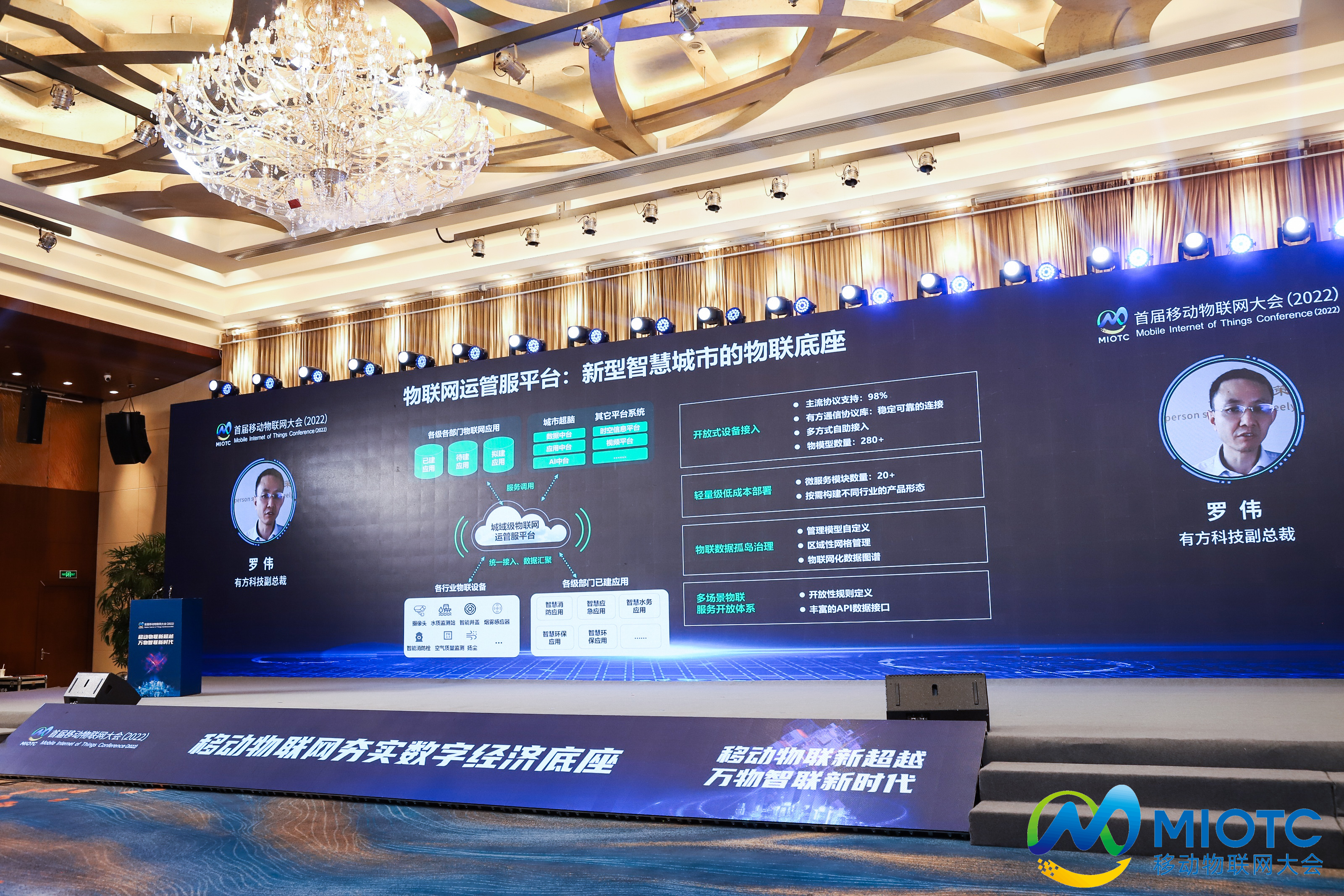 In addition to providing the IoT operation management service platform for digital smart city construction, Neoway provides a cloud, pipe and terminal integrated solution for urban safety monitoring and early warning scenarios, including gas safety monitoring, landslide monitoring, building safety monitoring, flood and waterlogging monitoring, reservoir safety monitoring, fire prevention monitoring, tailings safety monitoring and bridge anti-collision monitoring. By visualizing the changes of risk point data monitored by IoT sensing terminal equipment through the IoT operation management service platform, administrators can check, master and handle abnormal situations in time, realize multi-dimensional statistical analysis of IoT sensing equipment and IoT sensing data and early detection, early prevention and early disposal of risks, help industry customers achieve implementation of intelligent applications and provide acceleration for the construction of smart cities.