Neoway 5G Commercially Deployed in China Southern Power Grid, Accelerating Digitalization of Smart Grid
With in-depth application of 5G in generation, transmission, transformation, distribution, consumption, and emergency communication of the power system, the power communication network has gradually been transformed. The 5G+smart grid can significantly reduce the average outage time of users, effectively improve reliability and management efficiency of power supply, and greatly enrich and expand grid application scenarios, thus providing users with better integrated power services, and promoting power informatization and intelligence. It is estimated that by 2026, 5G will bring a digital market worth USD 1.3 trillion to ten major industries in the world, of which the energy industry and public utilities (water, electricity, and gas) account for a maximum of 19%, about USD 250 billion.
Recently, Neoway 5G module N512 has been officially deployed in the power consumption information acquisition system of China Southern Power Grid. It implements the following functions: automatic collection of power consumption information, monitoring of metering exceptions, monitoring of power quality, power consumption analysis and management, real-time monitoring and management of users' power consumption, real-time reading and querying of power consumption data. This ensures no omission of power consumption data, and greatly improves the intelligence level of the grid. Working together other Neoway 5G products (such as monitoring terminals) previously used in the power distribution network of China Southern Power Grid, N512 will help a secondary upgrade of the smart grid with its higher security, faster speed and greater stability.
As a 5G flagship product launched by Neoway in the fourth quarter of 2021, N512 is now still the smallest 5G wireless communication module in the industry, saving more space for the development of terminal customers, helping to streamline the size of terminal products, reduce material costs, and improve price advantages.
The size of N512 is only 38 × 30 mm, and can be applied to 5G terminal products with high volume requirements.

The 1T2R dual-antenna simplifies the design and improves development efficiency, and is particularly suitable for the power and energy industry.

Compared with the previous generation 5G products, the power consumption of N512 is reduced by 30%, which can effectively reduce terminal heating, save energy, and reduce costs.

N512 features an ultra-wide range of operating temperature. It can run normally at a temperature ranging from -40oC to +85oC, adapt to a variety of complex working environments, and have high reliability.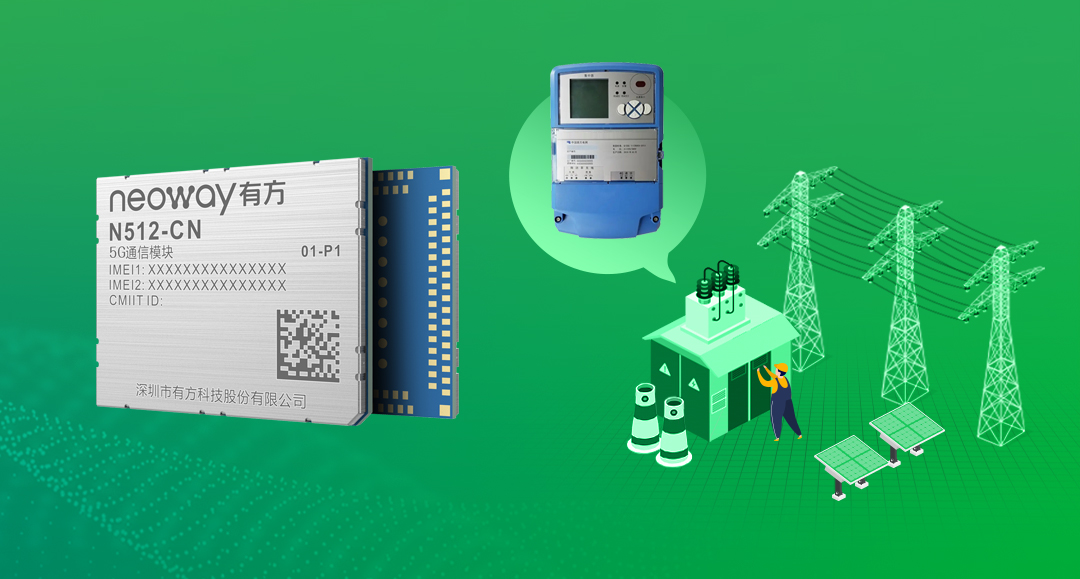 In addition to N512, other 5G wireless communication modules supplied by Neoway, such as N511 and N513, have played a important connection role in smart grid scenarios, for example, power consumption, distribution network monitoring, accurate load control, intelligent inspection, new energy battery monitoring, and charging pile communication. In addition, backed by the Neopipe Cloud, Neoway 5G products can also provide terminal customers with communication quality management services, network detection, fault alarming, and network switching over one platform, thus providing both software and hardware assurance for communication upgrading of terminal products.
Over the years, Neoway has been committed to promoting the intelligent development of the power industry by providing stable, reliable and safe wireless communication products and solutions. Neoway provides diversified wireless communication modules, including 2G/3G/4G/5G, NB IoT, and eMTC modules, which are applicable to different energy scenarios, such as energy metering, PV power generation, energy gateway, and electric vehicle charging pile. These products have been shipping in large scale in China, India, Europe, Southeast Asia, Middle East and other countries and regions. Neoway have been ranking the first in terms of market share for many years in China and India's power Internet of Things (IoT) market.
In the future, the 5G-based smart grid will further support deployment of various new appliances (such as distributed new energy, distributed energy storage, electric vehicles, and high-power electric intelligent machines) at homes and in commercial buildings, factories and parks. Neoway will also continue to leverage its technical and experience advantages of a leading enterprise in the power communication industry to help end customers in the whole industry develop stable, reliable and safe differentiation advantages, and to provide connection services to meet personalized, diversified and market-oriented energy supply.