157%! In 2022, Both "Quantity" and "Quality" of Neoway's Scientific Invention Patents Arose in 2022
According to the latest statistics, Neoway logged another record high for the total number of granted patents. The total number of invention patents was up 157% year-over-year, hitting a peak in the past years. As of December 31, 2022, Neoway held about 200 intellectual property rights.
In 2022, Neoway achieved breakthroughs in key and core technologies like communication protocols, equipment control, On-board device early warning monitoring and antennas, and obtained the corresponding patent certificates. These key and core innovative technologies, combined with the "Cloud-Pipe-Device" integrated communication access solution of Neoway, will continue to provide customers with a stable, reliable and safe communication connection of Internet of Things in smart energy, digital smart cities, Internet of Vehicles, industrial Internet of Things, smart security, commercial retail and other industries.
In 2022, Neoway officially released the enhanced version of Neoaccess cloud - "Neoway Creations", an operations management IoT platform for digital smart cities. It has applied for/been granted more than 30 invention patents, obtained 7 software copyrights and more than 10 domestic/international authoritative certifications. "Neoway Creations", as the digital base of the Metropolitan Internet of Things, integrates the functions of "construction, management, application and operation" of the Metro IoT system. It empowers builders and operators of the new metro IoT to quickly realize standardized unified access of IoT sensing equipment, panoramic data linkage, intelligent network management and scenario-based situational awareness, to avoid the repeated construction of platform infrastructure, reduce the access threshold of different standards of multiple devices in different scenarios, improve the ability of data analytics and data governance, and promote the co-construction and sharing of new data formats and models. This solution has been innovatively applied to a number of cities and scenarios, including Changsha, Chongqing, Chengdu, Wuhan and Shenzhen.
In 2022, Neoway drove continuous innovation based on the "Neopipe cloud + highly reliable communications module" solution, and applied for/was granted 5 invention patents, more than 10 authoritative certifications, software copyrights, etc. To guarantee the communications quality of the IoT terminal, Neoway's highly reliable communications connector solution collects and monitors the real-time signal quality, interference and other network indicators where the IoT terminal is located. It also demonstrates the ability of remote equipment fault diagnosis and early warning, which can realize monitoring and optimization of multiple networks and effectively improve availability of network connections. Additionally, this solution creates a one-stop standardized service process and record management files of comprehensive services for "module + card". The management platform for the IoT SIM card connection enhances the intensive management capability by complete functions and services such as flexible packages, traffic monitoring, intelligent alarm, and fund and bill management.
In 2022, Neoway's antenna products effectively enhanced antenna efficiency, the over-the-air (OTA) performance indicators, improved the quality and intensity of communications signals and satellite positioning signals, and ensured the stable and reliable transmission of data and terminal location information to the server as early as possible by optimizing the antenna products' matching communications module and the sensing terminal. An integrated communications access solution that combines antenna, communications module and Neopipe cloud, boosts signal quality, data reception, transmission, recording and storage, thus creating more stable, reliable and safe IoT applications.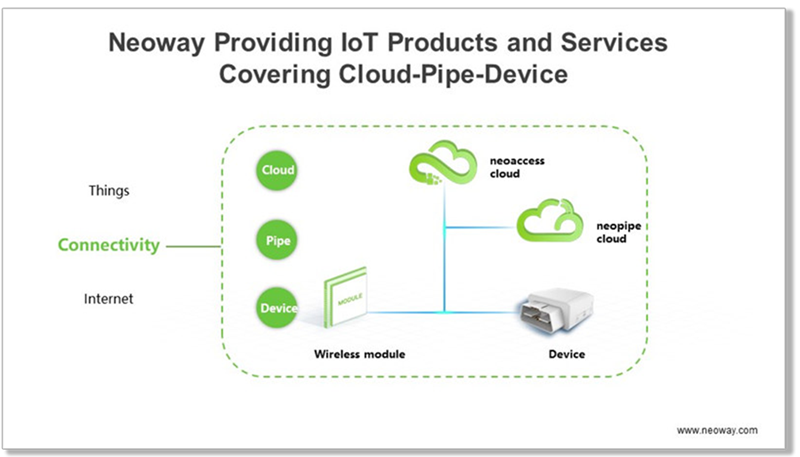 In addition, Neoway was granted several invention patents in the improvement of wireless communication signal quality, multi-card application of IoT devices, and reduction of space occupied for firmware upgrade, thus creating a solid technical foundation for the enhancement of the IoT communication stability and reliability.
Invention patents demonstrate technology innovation and effective application, which play a key role in promoting company competitiveness. In recent years, Neoway has continued to increase technology development investment in various business areas to ensure its leading position in critical areas. Presently, more than 50 percent of the staff are technology developers and Neoway spends about 10 percent of its revenue on R&D.
At the beginning 2023, Neoway will conduct continuous technology and product innovation around the cloud-pipe-device strategy. We will make efforts to improve patent quality while maintaining a steady growth of patents, thus boosting high-quality development with high-value growth of intellectual property rights.